More Hair Problems
True story.
When other people feel depressed, they go to the psychotherapist. Me, I go to the hairdresser. There's nothing that dampens my mood as much as an itching scalp.
The hair problem has been mentioned previously, by the way.
Drawing Notes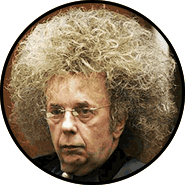 The depiction of my hair in panel two is an allusion to what may be the most atrocious haircut (or wig) I have ever seen, reproduced at right.
When I first saw this photograph, I naturally assumed it to be a photo manipulation. It isn't. This is how Mr. Phil Spector, accused of murder, appeared in the courtroom.