Archived News for October 1, 2007
The Sketches Have Landed
Last week I finally received an e-mail from the final of the three winners of this site's first contest. (Briefly: The first three readers to send me an e-mail got hand-drawn sketches for their troubles.) It seems that one of my sketches had trouble crossing the Mexican border... [insert stupid joke here].
All of the recipients seemed to be fairly satisfied with the results. Two of them even talked about framing my wretched doodles.
The blood, sweat and tears suffered over R.'s sketch don't seem to have gone to waste. Reminder: The first prize was a sketch where the winner was allowed to specify what I should draw. He promptly asked me to draw him and his son, based on the following description:
Him: 50+ years old male, 6'2" tall, with long silver hair, short greying beard & moustache, "not of slender build" (I'm paraphrasing).
Son: not quite as tall, "looks like Harry Potter" (paraphrasing again), but with neat short hair and small rectangular glasses.
From this information, I tried to draw a portrait as accurate as possible (which means not much). Imagine my surprise when I received a very kind note of thanks from R.: "You did an excellent job! Everyone I have shown the drawing to has been amazed that you did it from only a description. I'm attaching two photos of my son and I to show you how prescient you are."
This is the sketch, please note the badly drawn hands: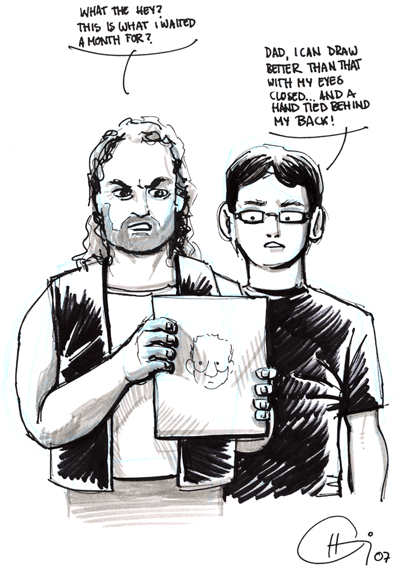 And this is one of the two photographs he sent me: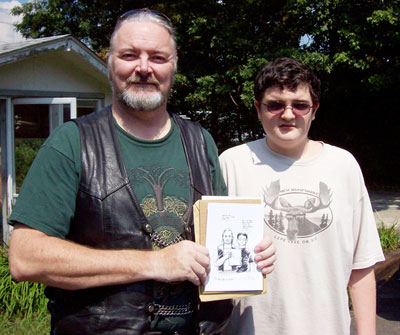 They actually struck the pose I had drawn! His son, for your information, is an aspiring artist himself.
Receiving these photos from R. really made my day. On Wednesday, I will tell you what the other winners thought of their winnings.